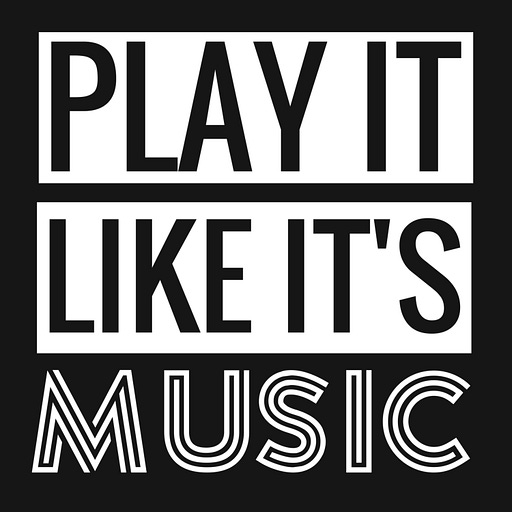 Jan 27, 2021 • 51M
"To connect with other people about things that matter"
Purists may whine that the best days of music are behind us, that capital "M" music has seen its peak and is no longer relevant. But here at Play It Like It's Music we believe the opposite: not only is the act of musicmaking an essential life skill with a lineage stretching back to the beginnings of human history, but the vocation of the professional musician is more vital today than it ever has been. Once a month, join musician, songwriter and producer Trevor Exter as he drops in on working musicians from every genre.
072: Aaron Gilmartin
Good morning! This is Play It Like It's Music. I'm Trevor, thanks for listening.
On Wednesday, January 27th of 2021 music is not content, it's connection.
I'm doing it, I've printed the mixes and I'm in the mastering process for this crazy new instrumental album I've been talking about. It'll go up on Bandcamp on February 1 and the chips can fall where they will! It's an electronic, experimental record with some very lo-fi drum sounds and a lot of lo-fi cello playing. I have got to say that I'm in love with it and also very pleased to be getting some new sounds out in the world.
It's not a song album, it's not the cello suite. It's some new stuff that might fit into the "ambient" category if you were to find it in the record bins. I'll come up with a nice list of hashtags to help with SEO, meanwhile counting on you to check it out and let me know how you like it. I'm nervous! But I'm going through with it. Can't wait.
When you commit to the music life, without picking a lane early on and never ever deviating or getting interested in anything else, you may experience occasional periods of journeyman syndrome. Side effects might include lonely nights and long voyages into the unknown, as well as episodes of feeling lost but can also be accompanied by epiphany, euphoria, extreme dumb luck and transformational catharsis. You may also find friends for life.
Aaron Gilmartin is one of mine. He is an award-winning film composer, a songwriter born and raised in DC in a musical family on a diet of American song, blues and poetry. 
We've seen each other through some incredible times, both high and low. And one thread which forever maintains is the inexhaustible grit and curiosity that it takes to stay in this life as a working musician.
Aaron started out on recorder, played clarinet and found his musical passion in the string family playing banjo at the age of 10 and then at the age of 12 migrated to the guitar. 
He's opened for Dave Mason (from Traffic) and has shared the stage with Winston Watson (Dylan), Adam Levy (Norah Jones, Tracy Chapman), Jacob Valenzuela (Calexico) and Phoenix Rivera (Lincoln Center Jazz).
In NYC he played in every kind of group from songwriters to latin, country, folk and indie bands. He played flamenco for Ballet Hispanico and dancers in the NY flamenco scene. Aaron created video courses teaching flamenco and bossa nova guitar, and has worked prolifically on the road as a touring musician. He's been living in LA for many years now where he composes, writes songs, plays guitar and also writes for Film Independent.
Quick ask: if you believe this show deserves a wider audience, please tell a friend:
Without further ado, here's Aaron.
It's an honor to have him on the show.
Press PLAY above to hear my conversation with Aaron Gilmartin
---
Thanks so much for listening to Play It Like It's Music. Thanks so much to the amazing Aaron Gilmartin for spending some very generous time with us. You can find him at Aaron Gilmartin dot com and follow him on IG @aaronsings.
And you know what? Go buy his music on Bandcamp!
I can't believe we've gotten to 72 shows! If you believe this show deserves a wider audience in 2021, please tell a friend:
Follow me on twitter @trevorexter and talk to me on there if you have thoughts about the show.
We're all contending with a mutating professional landscape, jacked revenue streams, a catastrophic global pandemic and plenty of other noise out here.
But you gotta keep playing.
We don't draw any lines here between scenes or styles.
As always, thank you for listening and remember to play it like its music.
You can check out my music on bandcamp and other places. It's all at my website, trevorexter.com. Sign the mailing list on substack to get this show sent right to you the very moment it comes out.
Music is a beautiful thing and it makes the world go round.
Big love to your ears.
Trevor
(Did you press play yet?)
.
.
.
Do you like this stuff? Please help it grow by sharing it!