Dec 24, 2019 • 45M
"It was in me from the beginning, but it was repressed."
Purists may whine that the best days of music are behind us, that capital "M" music has seen its peak and is no longer relevant. But here at Play It Like It's Music we believe the opposite: not only is the act of musicmaking an essential life skill with a lineage stretching back to the beginnings of human history, but the vocation of the professional musician is more vital today than it ever has been. Once a month, join musician, songwriter and producer Trevor Exter as he drops in on working musicians from every genre.
013 Daniel Sadownick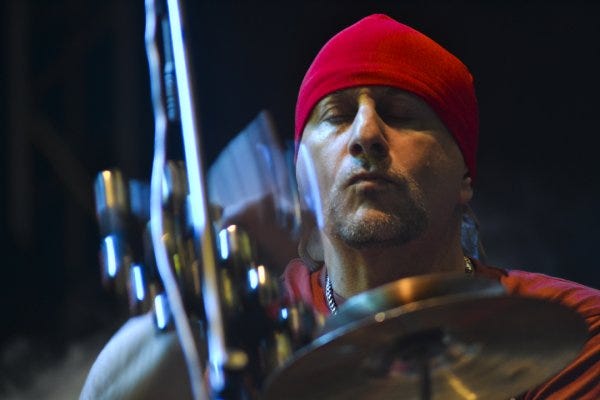 Bronx native Daniel Sadownick has toured with a large (and growing) cross-section of the greatest musicians we all love: Michael Brecker, Me'shell Ndege'Ocello, Steely Dan, Tony, Toni Tone', Maxwell, Angie Stone, Dennis Chambers, Nicholas Payton, Christian McBride, Nat Adderley, George Coleman, Dianne Reeves, the Lionel Hampton Orchestra, Carl Allen, Nnenna Freelon, Dewey Redman, Jennifer Lopez... even Billy Idol. Daniel is also a member of the New York based cult band the Screaming Headless Torsos. He is a versatile percussionist that does not limit himself to one genre.
It was an honor to spend some time with Daniel at his studio on Long Island. In this episode you'll hear him talk about his origins, his influences, early gigs as well as some great technical pointers on practice technique and gig etiquette.
Daniel states that "Living in New York City is a blessing. Being a cultural center one has access to the many different peoples and music that cover the range of the globe; Jazz, Afro-Cuban, Brazilian, Rock, Fusion - it's all here in this beautiful city. I feel lucky to have been born and raised here."
New Yorkers are lucky to have musicians like Daniel Sadownick among us. Enjoy the episode!
All music in this episode composed by Daniel Sadownick, find him on Facebook at https://www.facebook.com/danielsadownick or on Twitter @DSadownick.