Dec 22, 2019 • 30M
"I was a freak. Kids like us are freaks."
Purists may whine that the best days of music are behind us, that capital "M" music has seen its peak and is no longer relevant. But here at Play It Like It's Music we believe the opposite: not only is the act of musicmaking an essential life skill with a lineage stretching back to the beginnings of human history, but the vocation of the professional musician is more vital today than it ever has been. Once a month, join musician, songwriter and producer Trevor Exter as he drops in on working musicians from every genre.
011 Jim Caruso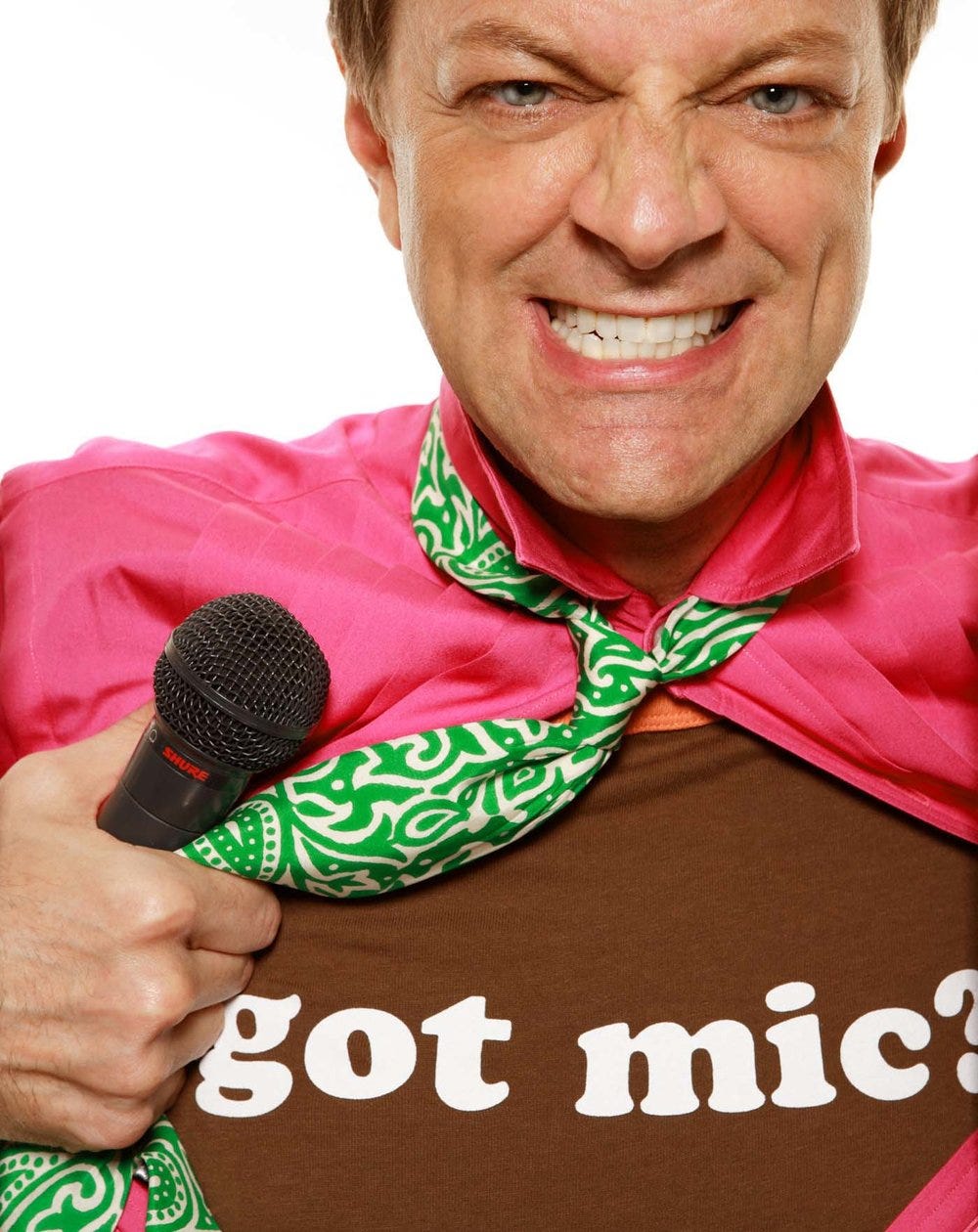 Photo by Bill Westmoreland
Transcript:
Emcee: Good evening. Ladies and gentlemen, welcome to Birdland and Jim Caruso's Cast Party. Please welcome on piano, Billy Stritch.
[band plays...]
Trevor Exter: Here we are, another fine edition of Play It Like It's Music – musicians in their own words. All right. There's a guy who's been running an open mic at Birdland in midtown New York City for an insanely long time. And he looks like he's 15 years old. I don't know how he does it, but here he is.
Emcee: Put your hands together for our host, Mr. Jim Caruso!
[band plays...]
Emcee: Thank you, good night!
Jim Caruso: Oh, please, please be seated. Too much. Wow, I had no idea what the [inaudible]. Who are you?
Audience Member: I'm the [inaudible] laugh.
JC: So thank you for laughing, please give everybody lessons.
AM: (raucous laughter)
Audience: (laughter)
JC: Okay, everybody do that!
Audience: (raucous laughter)
JC: More of that please.
...
TE: My man, Jim Caruso. Showbiz man of the hour here on Play It Like It's Music. It's always a good time hanging with the witty and dapper master of ceremonies. Say hi.
State your name and instrument.
JC: My name is Jim Caruso, and I am a singer and a host.
TE: That's really good coffee.  Why do you play music?
JC: I was born into a musical family. Both my parents were musicians. My dad was a band director in high schools, my mother taught elementary music education. There was always music all around the house, all kinds. Classical, marching band. My mother played great piano, and she played the standards of the day. I grew up with all of that around me.
I wanted to sing, I wanted to be in show business. I wanted to be a variety entertainer, like a Dick Van Dyke, Carol Burnett – those funny, smart people that sang and danced and did a little bit of everything.
TE: At what point did that come into focus for you?
JC: Early. Like, I asked my mother for an agent when I was five, and she got very nervous, 'cause she didn't know how I even knew what that, and I have no idea. I must have seen a movie or something.
TE: Most parents don't know how that works.
JC: It's ... I mean, I was a freak. Kids like us are freaks.
...
JC: Well, who's here at Cast Party for the first time? Anybody?
Audience: Me!
JC: Oh, whoa! Welcome! God bless you. Okay, let me tell all you newcomers what's in store for you.
Billy Stritch: Tell me too.
JC: Yeah, [crosstalk].
Audience: (laughter)
JC: Here's what you're in for. Cast Party is an open mic variety show for the Broadway, jazz, cabaret, comp, folk, rock, didgeridoo, klezmer, zydeco, tap, jazz, ballet, marionette, ventriloquial, acrobat communities.
STRITCH: Brought to you by Prell!
Audience: (laughter and applause)
...
TE: So you host every Monday. What is your night at the Carlyle?
JC: Sunday.
TE: So Sunday and Monday, you basically have two ... How long's the Sunday gig?
JC: Three hours nonstop.
TE: So three hours, and Cast Party's about three hours, right? That's a full ...
JC: Yeah, but I'm at Birdland at 3:00 for a 4:00 sound check, for a 7:00 concert that I present, and then Cast Party starts at 9:30. So I'm at Birdland all day. So by Tuesday, I am wiped out in bedroom slippers until about 4:00 in the afternoon, holding a coffee mug.
...
[music: "I've Got My Fingers Crossed" from Swing Set by Jim Caruso]
TE: When I go to Cast Party, you've always got the best lines. For the people who are looking to get on stage, you prepare them psychologically with your banter. I remember one line in particular, you go, "All right, you gotta earn your ballads. Don't overdo the ballads." And of course, that's your responsibility as a showrunner, you've gotta keep the energy up. But there's also a strong element of mentorship in that. Every time I've been there, there's been an amazing mix of people. You've got working performers, you've got luminaries and stars from all different kind of avenues, and then you've got a fair helping of tourists and fans. You've got local fans and people who come into town to see it.
I don't want to use the word "institution", because it's such a stale word, but it is very important. If it went away, a lot of people would miss it.
JC: I would miss it most of all, believe me. I wake up ... I saw somebody wearing a T-shirt that said, "I hate Mondays." And I thought, "Oh my God, I love Mondays!" Mondays are ... My whole reason of being now is Mondays. But yeah, I think the key to Cast Party has ended up being, yes, there are stars. There's Liza, there's Chita Rivera, Michael Feinstein, Natalie Cole used to come in. Paul Shaffer, Martin Short. All the Broadway kids. Lots of jazzers 'cause we're at Birdland and they just drop in to see what's going on, and we're what's going on.
TE: If we were going to do some actual radio style name dropping for this particular conversation, it would take up the entire conversation, so we're not going to bother with that. There's way too many names that have dropped in there over the last 15 years to make sense of that. But that's really amazing. Anyone can sign up, right?
JC: Oh, yeah.  Oh, it's truly an open mic night. 
TE: Part of the fun.  So someone from No Name, Nowhere might be sandwiched in between Christine Lavin and the next Judy Garland?
JC: That is absolutely right.  And that is part of the fun. The audience comes up to me afterwards, and of course they're raving about whoever was terrific. But they'll also be like, "That lady that sang the song about her feet, who was that? Who was she?" Some lunatic woman from Commack or a housewife that wrote a song. She's allowed to come just as much as Carol Channing. It's like, it's very democratic.
TE: This idea of being "discovered", that's one of my favorite bubbles to pop, because it's bullshit. I think the best a musician can hope for is to work regularly, and you do that. As far as being discovered goes, I think a newer player might have the idea that they're going to "make it", but that usually evaporates after a while. Once you start doing the gigging life and getting the fellowship we get on stage and off stage and on the road and off the road and those things ...
I used to have a routine, like, a Monday night open mic routine. You were part of it. I would start out at Sidewalk Cafe. I think I would put my name on the list at Sidewalk Cafe, and then come up to do your open mic, and then go back, and by the time I got back, my number was probably going to come up within 45 minutes of getting back. That thing always went 'til 4:00 in the morning, but once I discovered that I didn't have to stay the entire time, that's when I discovered Cast Party. I was actually discovered at your thing by a couple of people. I met one of my series of managers there. But just, it's quite a star-studded event. I never knew who I was going to see or run into or even meet. I remember Liza came regularly, maybe she still does, I don't know.
JC: She's in LA now.
TE: Okay, she's in LA? She lives there? A lot of luminaries from out of town would come to do their thing. But tell me a little bit of the history of Cast Party.
JC: Listen, Cast Party was a fluke. I never in a million years meant to be the host of an open mic night. I don't even go to open mic nights. I don't even like open mic nights.
...
JC: You're very lucky, because on this stage tonight will be some of the most talented people in the world!
Audience: (cheering)
JC: Also, other people.
Audience: (laughter)
JC: I have a very full list of talented people here. They are not here yet, but we're going to have to start. We have to start with someone, so we'll start with somebody else.
...
JC: If I can be honest, it was never a thing I planned on doing. I was doing PR for a nightclub, and the nightclub had absolutely nothing going on. So I threw a party one Christmas, this is 16 years ago, and all my friends came. There was a piano, we sang, people performed. We went on into the wee hours of the morning. It was a blast.
And the next day, the manager of the nightclub called me and said, "Would you do that every Monday, when Broadway is dark and all the performers in town are kind of at loose ends?" And I said, "Well, that's weird. Why would I do that?" He said, "Just do it. Do it next week, see what happens."
[music: "Avalon" from Swing Set by Jim Caruso]
JC: I did some emails, I said, "We're doing this," called a few people. A bunch of people showed up again, and it started to grow. And we started to do it every week, and we gave it a name. And it really started to catch on.
I had no idea that there was a need for something like that. There was, and I kind of saw that this could be an interesting, fun addition to my life. I was still singing in clubs at the time. I was doing PR, I was trying to stay in show business in some way, and it really caught on. That nightclub went bust, and we went to a couple other spaces for a few months, and then Birdland called. And that's when it really took off.
TE: Was the first place also in midtown there?
JC: Yeah, it was called the King Kong Room at the Supper Club.
TE: You're telling me the King Kong Room went bust?
JC: Shocking.
...
Audience: (applause)
Performer: I did, but I got to do that!
JC?: That was exciting.
Performer: It was overindulgent, I'm sorry.
JC?: Oh, no, you?
Performer: I am not wearing a gown, I just have the sleeve.
JC?: You won't wear your glasses too, so that was good. I know, I saw, it was good.
Performer: I know, I was going to whip them to this guy, but I didn't. I should go [inaudible 12:00 ], but he looks nice. I've been talking.
JC?: Are you still talking? Okay.
JC: Ladies and gentlemen, it's Lisa!
Performer: I'm going, I'm going, I'm going.
JC: That was good! No, it was good. No, it was good.
Performer: I didn't wear a gown.
JC: I noticed. But you wore sleeves. Bye. You people are very giving. I really appreciate that. No, I like it, really, I do.
...
TE: What's the most embarrassing thing that ever happened to you on that stage? I know you've seen a lot of other people get embarrassed, but what about you?
JC: I don't know if they were embarrassed. They should've been embarrassed. What's the most embarrassing thing? I don't know if I've been embarrassed, strangely. There have been terrible moments on the stage. We had a full-on breakdown a few months ago. Somebody, a comedienne, yeah, was heckled slightly, and had a full-on breakdown on stage. That was weird. We don't get a lot of comics, but it's a great room for comedy, because the audience is so hyped, and it's such a positive evening. That's one thing about Cast Party that I'm proud of, is that there is no booing, there is no, "Get her off the stage!" or snarky ... I'm not a snarky host. I'm a snarky person in real life, but as a host, I don't think that's attractive. I like being ... Somebody stinks, that's part of the scene and they put themselves on the line just like everybody else has. So I feel like they deserve the respect that we give the super ... When Tony Bennett comes in, they get the same respect and the same applause, and the audience plays along with that.
TE: That's not the way they do it in Philadelphia.
JC: It's not, and it's not the way they do it on American Idol, and it's not the way they do it at The Apollo. But it's the way I do it. It's just the way I am on stage, for whatever reason. If you want to hear snarky, then come with us to the diner afterwards.
TE: When you're seeing different kinds of music like that, you're used to seeing them in different spaces in front of different crowds, so you can go with the flow. And if something sucks in one room, it might be great in another room, and if something is great in one room, it might be terrible in another place. And that's one thing I appreciate.
JC: We do celebrate talent. That's my goal in the end, and I have a huge ... I have a wide musical taste, so I do love country. I do listen to jazz. I am a Broadway baby, I love it all, so...
TE: A "professional".
JC: Yeah, but I love hearing it all. So maybe that's why they all come to us and they all feel comfortable coming to us, is because they know that just 'cause it's Birdland, it doesn't have to be some chick snapping her fingers scatting for 17 minutes. In fact, please don't. It's, and I have these musicians on stage that can kind of do anything. They're really extraordinary.
...
[music: "This Or That" from Swing Set by Jim Caruso]
TE: To be fair, I asked you about the most shameful, embarrassing stuff that happened. But tell me one of the more glorious moments.
JC: Well, there have been a lot. I could name drop all day, because in 15 years, we've had everybody.
TE: So let's do quality over glamour.
JC: Right, right. But they do kind of interconnect, because to say, "Ladies and gentleman, Tony Bennett," is a pretty great moment, and have him say, "You kids are keepin' The Songbook alive!" Those moments are like, holy cow, this is huge.
But then, I remember the end of one of these nights, and I'm pooped and the band is pooped and everybody's ready to go home after three hours of songs, this girl walked in. Young, early 20s girl. And she was like, "Is there any way I can get on the list?" And I said to her, "We're kind of done for the night." And she was like, "Oh God, I just moved here from Canada. I just got here today. This is my first night in New York. I'm here to perform, and I just ... If I don't perform my first night in New York ..."
Well, of course, what am I going to say? "Get out!" So of course I introduced her.
I said, "Ladies and gentlemen, there's one more. Here's a girl who just moved here from Canada, and this is her big, her first night in New York ever. She's a New Yorker now. Please welcome her." She came to the stage and she was so excited, and then she proceeded to sing her head off. But, for real.
And the audience just went nuts and stood. Everybody stood after her song, and she had tears streaming down her face. It was this incredible moment, and I thought, "And that's why we're here." Yes, the glamour. Those Tony Bennett moments, and Liza, and those crazy things that happen that are so memorable. But in the end, it's giving somebody a chance to be heard. Oprah said it. "Everybody just wants to be heard."
And it's really what I've learned in this, and we are giving all kinds of people, brilliant talent, no talent, and everything in between, their three minutes to be heard. And that's something I am truly proud of, and constantly invigorated by.
...
[music: "Etude #1" by Trevor Exter]
TE: Coming from New York, this show is called Play It Like It's Music. I take us into the practice spaces of the best players I can find. I'm Trevor Exter, your host. This is a podcast by, for, and about the people who play. It's also my excuse to go and grill my friends/heroes about how they do things, how they got it together. I'd like to take a quick moment to thank you and the larger music scene for your support of this project. If you like it, subscribe. Put us in your feed next to all those other things. Put us on the radar, too, by writing a review. 5 stars if you like it, and if you don't, 10 stars.
If you'd like to get closer to the action, consider helping out financially on Patreon. What started as a trickle of encouraging emails and text messages has grown into a small online community where I get to chat with you folks, share material with supporters ahead of release, as well as get a few dimes and dollars, which we use to help keep the lights on around here. We are 100% listener-funded, scene and style agnostic. Find us at playitlikeitsmusic.com. Okay, back to the show.
...
TE: You've got this enviable position of having a New York music gigging routine. Very few people are able to lock those down and maintain them, and you seem to have done both. And that's not all you do. I know you go out on the road sometimes with a bunch of people, right? Do you do much touring?
JC: The touring I've done lately is with, again, Billy. Last year, we did a Sinatra show. Of course, everybody in show business did a centennial show for Sinatra's 100th birthday. So we also did that, and we did performing arts centers, things all over the place. But the most fun is when we take Cast Party across the country, and we've done that to celebrate talent for quite a few years, celebrating talent in Los Angeles and San Francisco and Las Vegas and Pittsburgh and Dallas and Delray Beach and ... You name it, we have gone there to meet the local talent and celebrate them and put on a show.
TE: So what's a spiel you might give to someone who has their heart set on singing in the neighborhoods you sing in?
JC: Wow, let me think of what that would be. I think I would tell – and it sounds self-serving, perhaps – but I would tell anybody that wants to sing and be heard and make a name for themselves in New York, is to just get out there and sing at every - hello! - open mic night. I know, I know how that sounds. But just to get out and do it. I think if you sit at home and hope for a career, that never worked for me. I had to get out there. Some people can be discovered at a very young age. Of course that happens. Didn't happen for me, I'm still waiting to be discovered. But I think just getting out there, singing, creating a community around yourself, that's huge.
TE: You're being quite humble right now, talking about appreciating talent and lifting other people, but you open the show and you've got a very strong performance yourself. What's the other weekly gig you do? Tell me about that.
JC: Billy Stritch and I have been performing at Bemelmans Bar at the Carlyle Hotel for five years now on Sunday nights, and I don't know if you've been there, but that place ... The Carlyle Hotel is an iconic, old-school, Upper East Side hotel. But they've had music in that hotel since the turn of... since they opened. It started as classical music.
TE: The other turn of the century.
JC: Yes, the true turn of the ...
TE: The turn of the old century.
JC: I know, you can't say that anymore, can you? They started with classical music, then they threw some popular music of the day in, which was shocking. And then jazz, what? And then a guy named Bobby Short was booked, and that changed everything. He brought what we now call The Great American Songbook into this iconic New York hotel, and it's been there ever since.
So that's the Cafe Carlyle, where he was. Right across the hall is Bemelmans Bar, which was this very lively bar, and we stand right in the middle of the room at a grand piano and sing our little songs and take requests and laugh, and we feel like we host the party.
TE: If you could name me, off the top of your head, half a dozen of your favorite songs perform, what is the Jim Caruso canon, if it had to fit on one side of an LP?
JC: Oh my gosh. For my voice, anything that was performed by Fred Astaire really lays well for me. So that's a lot of Gershwin, Rodgers and Hart, Berlin, truly The Great American Songbook. So, "Love is Here to Stay", "With the Shine of my Shoes"-
TE: You know hundreds of songs.
JC: I do, I do. "Change Partners and Dance". Any of those great songs that he performed in the movies and on Broadway, I'm an enormous fan of. Not only that, but they lay well for me. I like all kinds of music, but I can't sing all kinds of music. I have a rather limited range, and so I know what I do and what feels good, and it is that scene that really makes me happy.
TE: Well, it's really well-written stuff.
JC: Yes, it is. You can't argue that these songs are certainly classics.
TE: We're so rich in this country to have those songs.
JC: We are, and that's not to say that The Great American Songbook is not a thriving, living thing, and that all the good songs were written before 1955. That is ... I don't agree with that. A lot of people are very snobby about songs, but gosh, I just saw Duncan Sheik open at the Carlyle this last week, and he's still writing great ... Still, 'cause what is he, 40 now? He writes great stuff, and it just continues.
[music(ambient): Billy Stritch trio at Birdland]
JC: The Great American Songbook goes on and on and on.
...
TE: For the vocalists in the audience, you've been in this routine for a while. Do you have anything you do every Tuesday to get your voice back?
JC: Weeping, crying. What I do on Sundays is vocally tiring, because Billy and I are singing for three hours in a room that could be stone quiet, listening to us like we are at Radio City in concert, or it could be just like we're in the middle of a frat house. You never know what the room is going to be like.
But Cast Party is ... We sing one song, and then I host the rest of the night, so that's not as vocally tiring. I have to be careful. I've had little things on my cords in the past, that you have to deal with a vocal pathologist and all that stuff. I think that's part of the business. I don't talk a lot during the day on the days when I have to work. I'm here at my desk alone, so I'm not chatting. You just do whatever it takes. Everybody's different, and I think also the older you get, I think the more cautious you have to be to not blow it out. When you're younger, you can blow it out, and you heal faster, it seems.
TE: How does one ground oneself emotionally in a show business career?
JC: Oh my God. I guess, surrounding yourself with friends and family that you trust and know and understand, and can talk to. I don't know. That's how I've done it. I've always had a lot of friends. I grew up an only child, so I wanted to be an Osmond brother when I was growing up. I wanted all of that. I wanted the matching outfits and the singing, the von Trapps. But I didn't have that, so I think I've created that family of friends around me my whole life.
So I've always had a big personal community. I keep saying that word, but I think it's really important, and it's certainly changed the trajectory of my career and life. And now that community is my job. I've always wanted to hang out with people that were more talented than I, funnier than I, sing better than ... All of that, I just think it makes me feel better. It makes me do better. And I think that's pretty huge.
TE: Fantastic.
JC: Are those things that are good?
TE: I think I got what I needed, Jim. This has been fantastic, thank you.
JC: Bye.
TE: (laughter)
...
TE: Thanks for listening, and thank Jim Caruso for sharing his space with us. Go see him sometime at Birdland on a Monday night. It's an institution. Play It Like It's Music is produced, recorded, edited, mixed, and hosted by me, Trevor Exter. Have a good gig.
...
Audience: (cheering)
Emcee: ...Jim Caruso's Cast Party!
...
TE: Thank you so much for listening to the show. It means everything to have your ears and support each time you pass the link to your friends, review us on the web, and help out financially. These are the players I admire the most, and as a working musician myself, I've always looking to get to know them in a deeper way, find out stuff that might help me become a better musician. I love sharing these moments with you and reading your feedback and questions at our website, playitlikeitsmusic.com, where you can browser other episodes and support the show. We are 100% listener funded, it's how we can have the conversation we need to have in an age when we're all contending with a mutating professional landscape, jacked revenue streams, and a lot of noise out there in the culture.
These are exciting times. It's almost as if the simple act of playing an instrument is a revolutionary one. We don't draw any lines between scenes or styles, so if you haven't done it already, head over to the website and join the community. You can use PayPal or make a recurring pledge through Patreon, where we offer a selection of merch and rewards.
As always, thank you for listening, and remember to Play It Like It's Music. I'm Trevor Exter.