The gig last night
was bananas.
Currently in Bellow's Falls, VT for the Creative Cello Workshop with Eugene Friesen: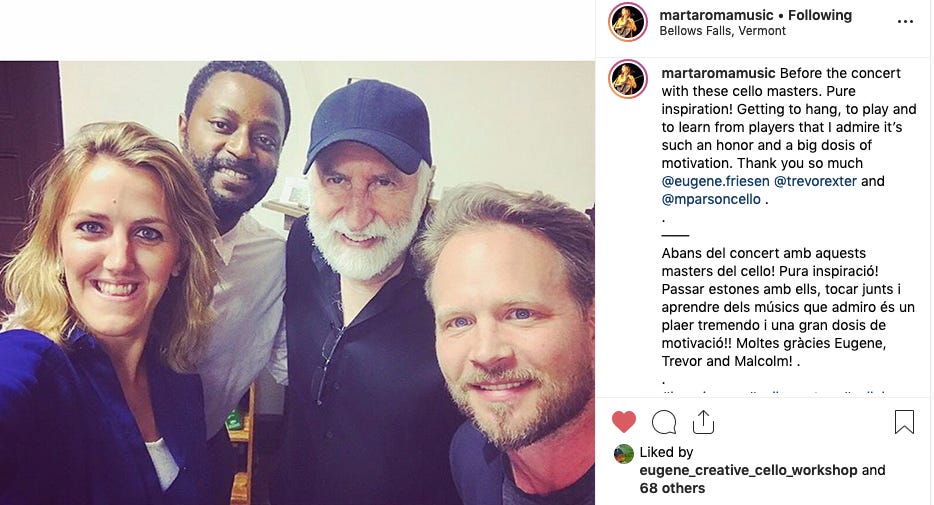 ---
[status update]: in community with cellists in a resonant, rural space. We are sounding off and connecting around ensemble playing, improvisation, polyrhythm, gear, performance, fear, listening, blending, groove, feel, melody, practice, phrasing, vibing, more fear and more melody.
It is, for a certain breed of human, medicine to do this. I'm enjoying having taken this week to reconnect with my instrumental kin. I hope you are enjoying your spring Wednesday and sharing something you are passionate about with people who can see, hear and understand where you are coming from.
Community is life's great fire. Thank you for being a part of mine, and I hope we see each other soon.
(How are you liking the new Bruce album? Send me your opinion if you can spare it.)
.
.
.
---
Still on the road! I'm living out of a bag for the next little while. Coming up this weekend:
Thank you for reading and subscribing. More to come.
I appreciate you.
Big love to your ears,
Trevor
.
.
.
---
If you appreciate my work, it's in these other places too. Please help it spread by sharing it: