Learning new things
Play It Like It's Music
Hi. 
I'm happy to report that we got a new kettle. This one is glass, but still electric. Hopefully the cool blue light will keep me from sleepily destroying it like the last one.
January, somewhere in NY.
---
Music is bigger though, and we have sore ears for infinity:
"

Hi, Trevor
Clearly we are not meant to have electric kettles. Cellos are from the 17th century and even they are beyond me. 
I really like the blog, thanks for doing it...

Don't know where I would be without the music these days. My dad is in memory care and my wife is in the fairly early stages of Alzheimer's. Life can be tougher than I expected.
I love the teaching, and woodshedding every morning for a couple of hours makes things change, even if I don't have a direction. But it is good... Keep on writing - it is great stuff, and I really appreciate it. 

"
As ever, when you write back to me I feel less crazy for leading this life. Thank you.
For us, a day un-played (or un-sung) is a day not fully lived, and we all have too many of those.
Life is so much more than records, and I propose we do music for reasons other than "making it". Just make the music. It'll make you back.
On to this week's post:
---
Learning new things to counteract staleness, coarseness and restlessness
At some point I acquired faith. I had become distracted over time by career concerns: "Get the Gig!" "Write the Hit!" "Build the Audience!", and beneath my own awareness I had lost the musical plot. I stopped learning new things for its own sake.
Fresh neural pathways will always be hard to carve, and that's the point. Your brain can only keep growing if you ask it to. And what better way to do that than to keep learning new music?
Last month I became fixated on two vastly different pieces: Giant Steps and "Sailing" by Christopher Cross.
One was a box I'd never (and still haven't) checked, the other was inspired by seeing my friend Keith's performance of it in a restaurant.
But the "why" doesn't matter. The real reason to learn something is simply to learn something. It's to add one more layer to your life's texture.
I can't believe how much I hesitate and resist though, in the actual moment. EVEN THOUGH I want this and I know I want it, have said it… my conditioning (and maybe the human condition) propel me to ask obstructive questions and assert control over my learning before the learning has even begun.
But once I disengage from that, it's off to the races.
Something fresh to chew on.
Hearing in a new way.
Confidence growing. Temperance.
Resentments evaporating, joy returning. Maybe even peace of mind.
For years it had become so routine, so full of striving. And bringing back the joy definitely didn't happen overnight. But it's here now, I can thank the stars.
It was here all along, all I had to do was crack it open.
Sound is life, and it's talking to us all the time.
.
.
.
---
something curated:
"Relationshapes" (episode 5 is dedicated to my sister).
---
Lastly, please allow me to take a quick trip slightly back in time …..
because Chris Morrissey's episode did not get a proper push by me.
This is from back in December, when I wasn't writing these emails yet. If you know Chris, or have heard of him, you definitely know he's a beast. A warmhearted bass playing musical director/arranger/force of nature and an amazing songwriter to boot. This episode will probably inspire you a great deal.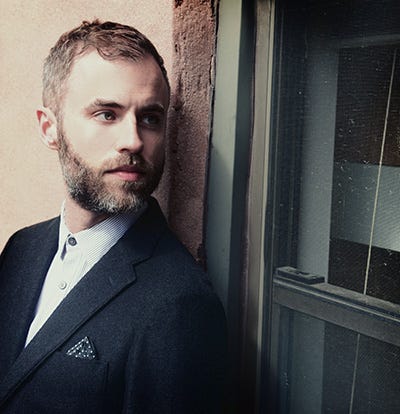 I went to Greenpoint to meet him at home, but you can hear him literally everywhere: on records by Sara Bareilles, Mark Guiliana, Dave King, Jim Campilongo, Lucius, Ben Kweller, Andrew Bird.
(But his own, original music will blow your mind. I get a Radiohead-like thrill when I hear his stuff, especially his new record, Laughing And Laughing. )
---
Thank you for reading and subscribing.
I appreciate you more than you know, and it's always a pleasure to hear from you: I'd love to know how you face each day. Go ahead, hit that "reply" button.
Love your face,
Trevor
.
.
.
---
If you appreciate this work, could you help share it?
Check out the "Trevor Exter Playlist" on Spotify
Hear 18 episodes of: "Play It Like It's Music"
You can hire me to produce your podcast.
Or get supportive: visit Patreon